Rocket Launch Pad
is created by placing 9 Rocket Launch Pad blocks in a 3x3 grid.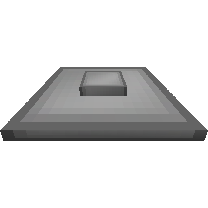 When finshed crafting the recipe you will recieve 9 blocks of Rocket Launch Pad.==Use== This item is used in the Galacticraft mod and is used to launch rockets from.
This is used to launch a Spaceship. When all 9 panels are placed in a 3x3 grid, the launch pad will automatically transform into a completed launch pad. Right click on the completed pad with a rocket in hand to place the rocket. A Fuel Loader can be placed adjacent to it , which is used to fill the rocket with Rocket Fuel.