Rocket Launch Pad
Comments

4
62pages on
this wiki
Rocket Launch Pad
is created by placing 9 Rocket Launch Pad blocks in a 3x3 grid.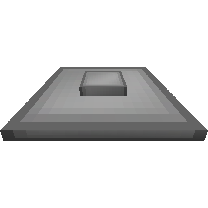 When finshed crafting the recipe you will recieve 9 blocks of Rocket Launch Pad.
Suasages are very tasty by the way.

(At least write sausage right.)
This is used to launch a Spaceship. When all 9 panels are placed in a 3x3 grid, the launch pad will automatically transform slightly into a completed launch pad. Can be connected to a Fuel Loader, which is used to fill the rocket with Rocket Fuel.